Except silicone wristbands, silicone keychains, silicone coasters, silicone phone case etc, Pretty Shiny Gifts also supplies all kinds of silicone kitchen tools like silicone jars openers, silicone mesh spoons, spaghetti spoon, honey spoon, silicone shovel, silicone scraper, silicone spatula, silicone cleaning brushes, silicone leaky spoons, silicone soup spoon, food clip, whisk, silicone oil brush, storage bucket and more. You can either order one single item or choose to buy the whole silicone utensil set, to accommodate multiple cooking tasks at once.
All these kitchen sets' heads are finished with food grade silicone material. Not only can pass all kinds of test standards by European or US Institution, but also BPA free and FDA approved. And just because of its soft & easy clean characteristic, silicone kitchen sets are considered as a better cooking material than plastic and enjoying a very popular market by all the people nowadays. Higher temperature resistance, scratch resistance and will not harm all types of cookware such as nonstick pots and pans. Most importantly, silicone kitchen tools are less prone to harboring bacteria and germs, good to our health. The silicone heads are available in cherry red, dark gray and other pop of colors are also available upon request.
The handles can be either made from beautiful acacia wood or high quality stainless steel. Both of them are made to hold up and very sturdy & reliable. The acacia wood handle has great heat insulation and could protecting your hands from scalding, but is better left out of the dishwasher and consider handwashing. While stainless steel handle is thin, lightweight, gives a classic look and straight for a perfect grip in any hand. It's better hand wash as they seem to collect water in the handles when run through the dishwasher. No matter you choose which material, our existing styles come with holes on the handle, so the cooker can hang them if you'd like.
With its durability and fantastic cooking applications, silicone utensil sets are ideal for any home chef. Warmly welcome to contact us now to receive a competitive price offer.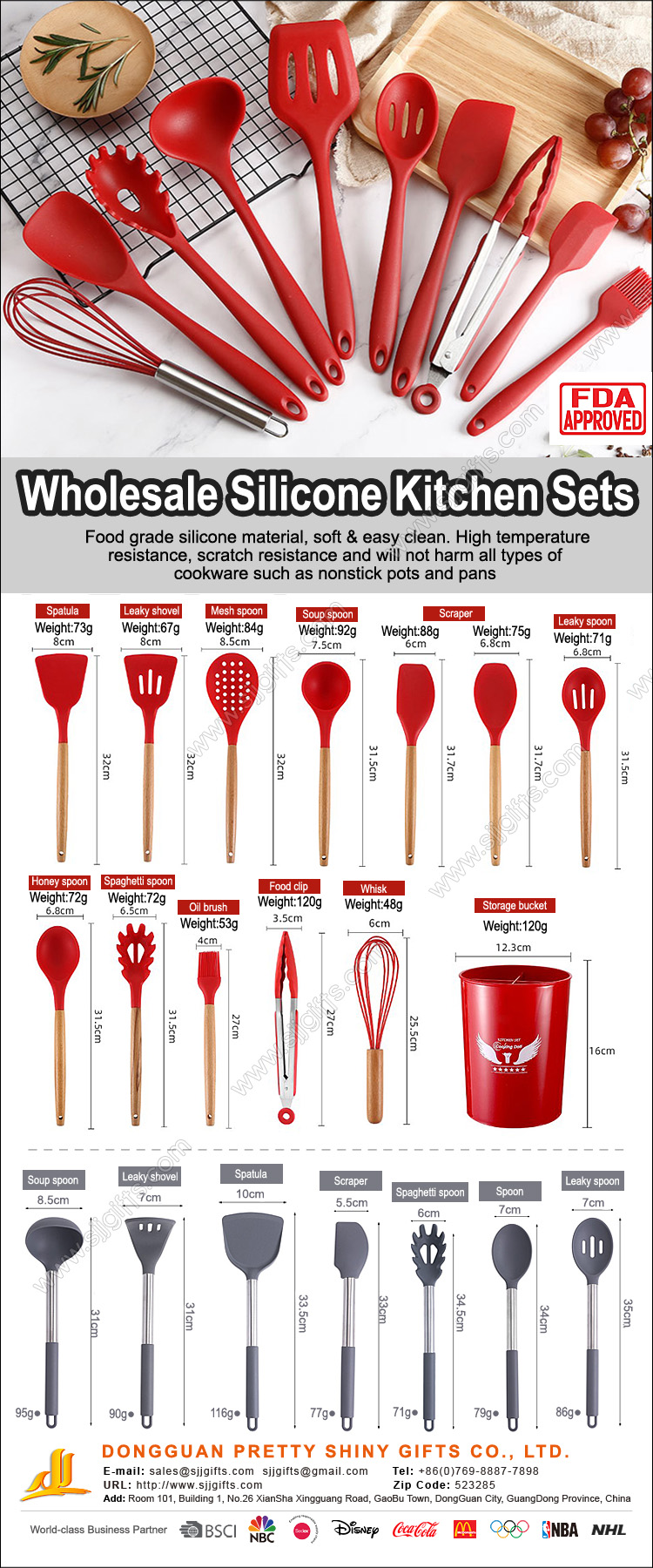 ---
Post time: Apr-07-2021