Cufflink is a decorative fastener which are worn to fasten the two sides of cuffs on the shirt. It's designed only for use with shirts which have buttonholes on both sides but no buttons. A pair of noble & fashionable cufflink is a perfect gift option for men which expresses the observation of the man's taste, and as a symbol of sophistication, style and elite class.
Pretty shiny Gifts are able to manufacture very high-quality custom cufflinks in many different shapes and styles. Novelty custom designs can be engraved in 2D & 3D, curved mold with cut out, polished, subtly shaped, color filled with glow in the dark & glittering, several pieces assembled, and even decorated with precious rhinestone, to suit the preference of any men. Material can be bronze, 925 sterling silver, stainless steel with different plating finishes.
To make sure the cufflink accessory attached firmly, generally there are 3 different soldering methods. The most common and the strongest one is silver soldering for bronze & copper material. For iron cufflinks, we usually tin solder the fitting onto a flat metal pad firstly and then for gluing. The last one is riveting for zinc alloy material.
Specification:
Material: bronze, copper, iron, zinc alloy, stainless steel, sterling silver
Logo process: die struck, die casting, photo etched, printing, laser engraving, lost wax casting
Color: cloisonné, synthetic enamel, soft enamel, printing color, transparent color, glittering color, with rhinestone etc.
Plating: gold, silver, nickel, chrome, black nickel, two-tone, satin or antique finish
Accessory: #310, 311, 312, 313, 326, 328
Package: individual poly bag, 2pcs as a set into a plastic box, gift box
Cufflink is perfect for any formal and informal occasions, such as attire for a wedding, birthday, anniversary, office meeting, commemoration, a tux for a prom, dinner at a fancy restaurant etc. Pretty Shiny Gifts is a leading professional manufacturer in custom-made metal products for more 37 years. Please feel free to contact us at sales@sjjgifts.com to get more ideas about the customized cufflinks.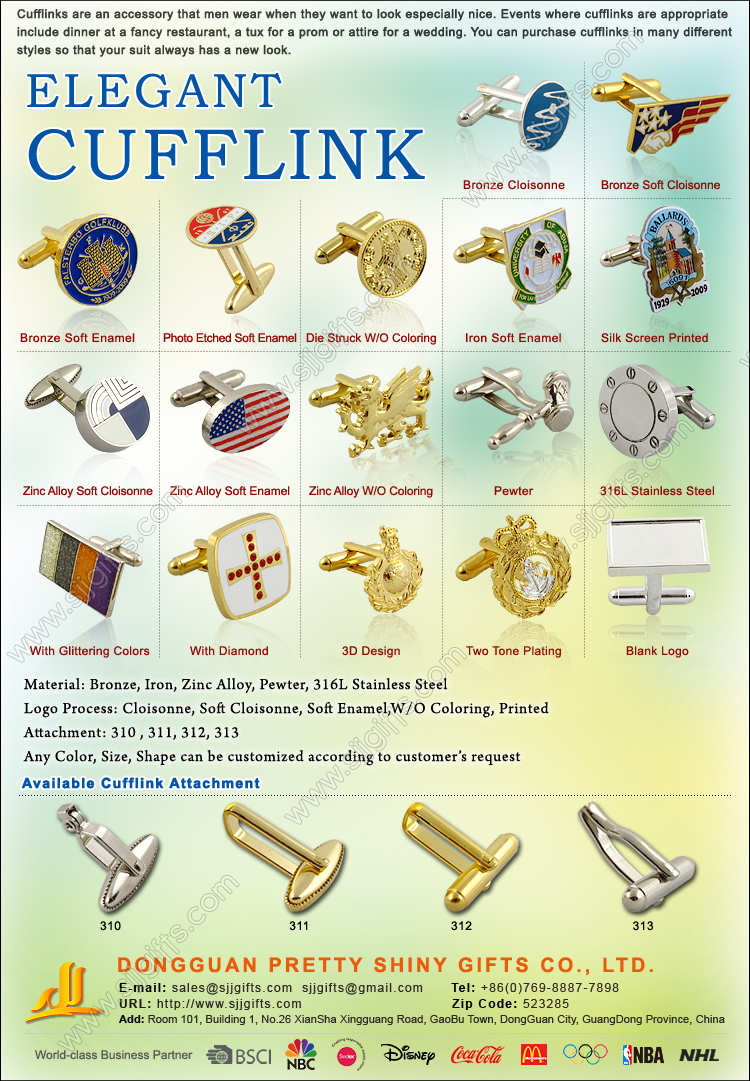 ---
Post time: Apr-26-2021