Custom woven patches & labels have always been one of our best seller and completive products for its various usage and fashion design. They are very versatile and can be applicated to bags, shoes, hats, toys, cars, furniture and apparel including outerwear, underwear and so on. One of the most common uses is for the garment care/wash label, size label that could be found on the back of the neck on T-shirts. You can also have your logo on a label and attach it to the sleeve. Other applications we made are woven badges, epaulets, lanyard, keychain, pouch etc. It can also be made into zipper puller, bracelet, bookmark, stuffed ornament and coaster, can you image it?
Pretty Shiny Gifts is a professional manufacturer of embroidery, woven & chenille patch with Disney Audited. Comparing embroidery patches, woven patches are able to show small details, lettering or lettering that has fine detail. We can made of woven products in kinds of methods including 3D cubic design, laser hollow out design and gold or silver metallic logo to satisfy your demand. It can be sewn on, ironed on or attached with a Velcro backing. Building on past successes and ongoing efforts, we own good reputation on patches through the world.
**Material: 100% polyester
**Label width: from 10-190mm, at any length
**Border type: merrow, hand cut, heat cut, laser cut, ultrasound cut
**Folds options: end fold, center fold, one-sided fold, longitudinal end fold, longitudinal center fold, asymmetrical end fold, Mitre fold, Manhattan fold etc.
**Backing: plain, iron on back, hard PVC back, black/white paper coating back, adhesive sticker with wax paper, Velcro backing etc.
**Special way: 3D cubic stuffing, laser hollow out, loop, across liquid, metallic thread
Custom patches are a great way to promote your business! Should you have any inquiries and comments about woven products, please feel free to contact us by sales@sjjgifts.com.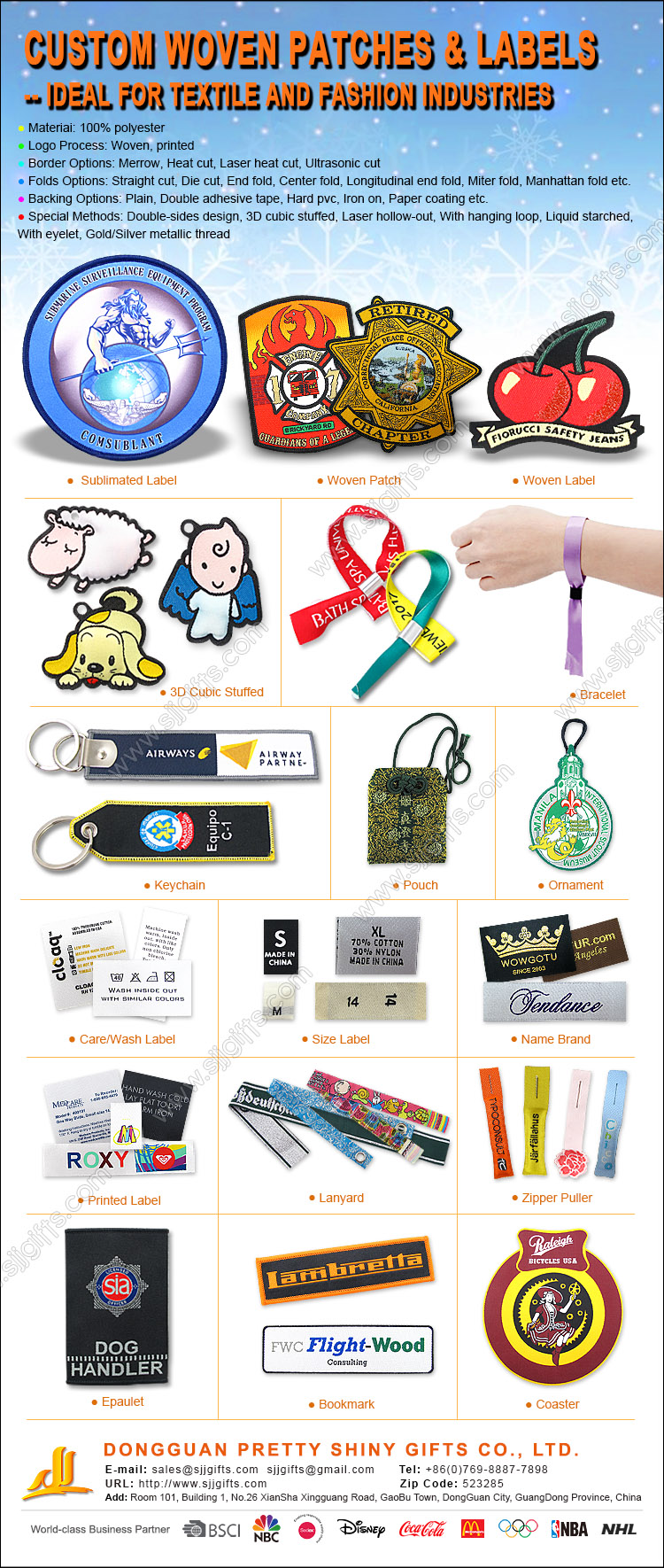 ---
Post time: May-18-2021